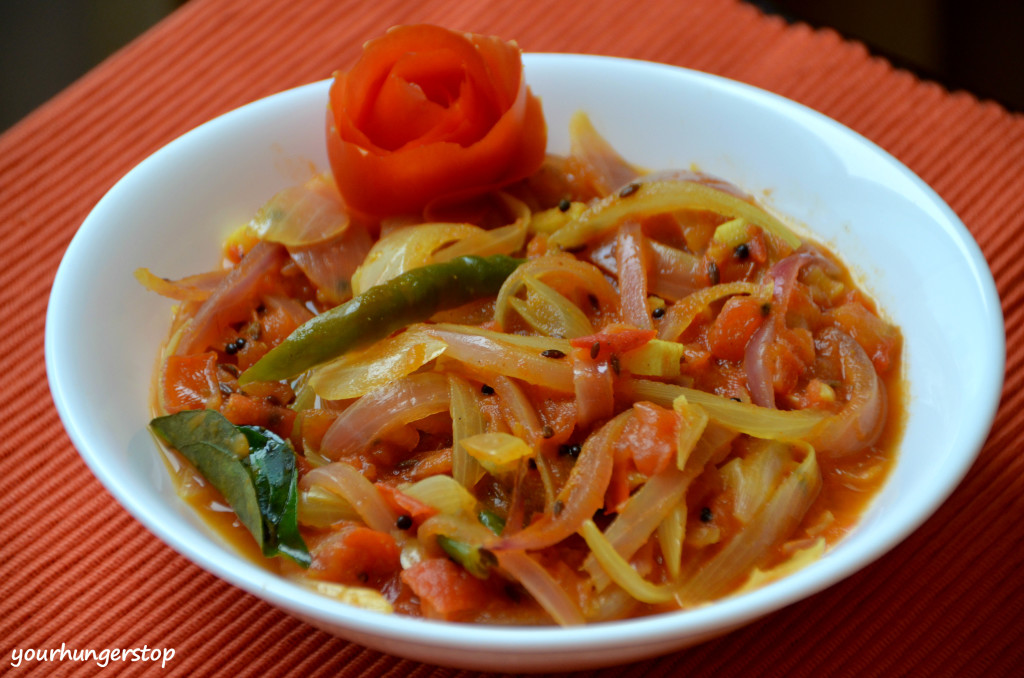 A little sweet, a little tangy, a little spicy – Tomato Bhaji or Pyaz Tamatar ki Sabzi. Very easy to make and tasty too, tomato bhaji requires very few ingredients easily available in the kitchen.
I had eaten this tomato bhaji several times in restaurants in Goa, however had never tried it at home. A few days back, I tried making the tomato bhaji at home.
It was so simple and so quick, that I have made it several times since then.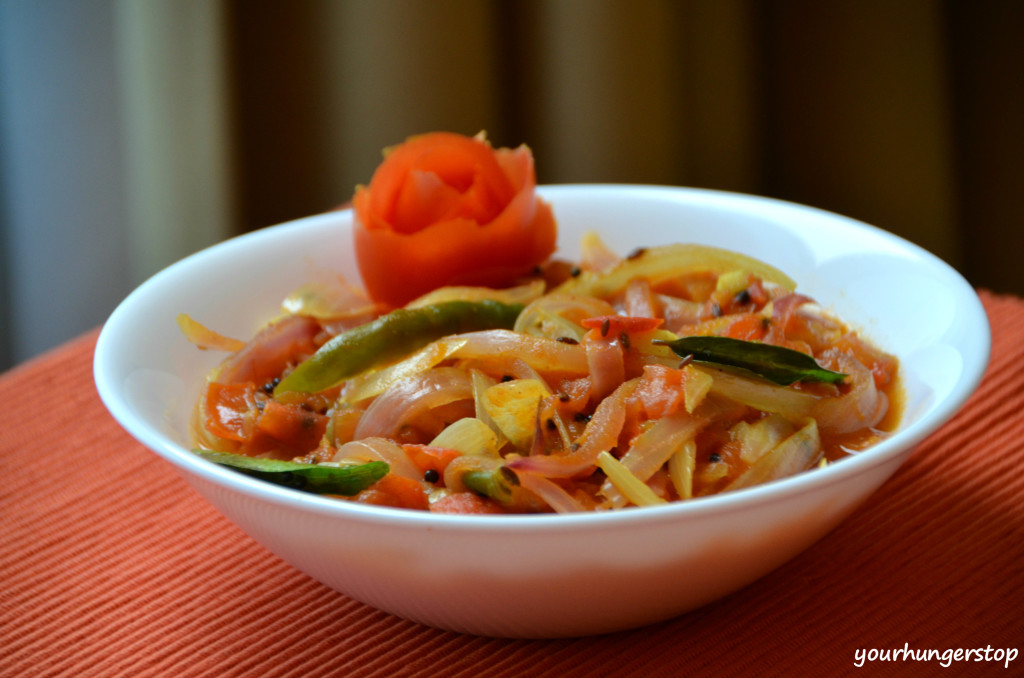 Here is the step by step Tomato Bhaji recipe with pictures:
Serves: 3
Preparation Time: 10 minutes
Cooking Time: 10 minutes
Ingredients:
Tomato: 3 medium ripe finely chopped
Onion: 2 medium sliced
Green Chilies: 2 slit vertically
Garlic: 4 cloves finely chopped
Curry Leaves: 4
Mustard Seeds: 1 tsp
Cumin Seeds: 1/2 tsp
Hing (Asafoetida): A pinch
Garam Masala: 1/2 tsp
Turmeric powder: 1/4 tsp
Chili Powder: 1/4 tsp
Sugar: 1/4 tsp
Salt: to taste
Method of Preparation:
In a pan, heat oil. Add onion, garlic and green chilies and stir fry till onion is translucent.
Add tomatoes and stir fry for 2-3 minutes till soft.
Add 1/2 cup water. Close lid and let cook for 5 minutes.
Mash the tomatoes a little.
Add chili powder, turmeric powder, garam masala, sugar and salt. Mix well. Let cook for 2 minutes.
In a separate pan, heat oil. Add mustard seeds and cumin seeds. Close lid and let splutter.
Add curry leaves and hing and stir fry for a few seconds.
Add this curry leaves, cumin seeds mixture to the tomato onion gravy and mix well.

For the entire collection of all Goan recipes, you can click here: Goan Cuisine.
Some other Goan vegetarian recipes which you might like: Mooga Gaathi (Sprouted Moong Dal Curry), Toi (Goan Dal), Alsanyache Tonak (Red Cow Peas Curry)
If you have excess tomatoes which you want to finish, then apart from this recipe, you can also try these: Tomato Soup, Tomato Eggdrop Soup, Tomato Salsa, Bruschetta
Tomato Bhaji
Tomato Sabji
A little sweet, a little tangy, a little spicy – Tomato Bhaji or Pyaz Tamatar ki Sabzi.
Ingredients
Tomato: 3 medium ripe finely chopped
Onion: 2 medium sliced
Green Chilies: 2 slit vertically
Garlic: 4 cloves finely chopped
Curry Leaves: 4
Mustard Seeds: 1 tsp
Cumin Seeds: ½ tsp
Hing (Asafoetida): A pinch
Garam Masala: ½ tsp
Turmeric powder: ¼ tsp
Chili Powder: ¼ tsp
Sugar: ¼ tsp
Salt: to taste
Instructions
In a pan, heat oil. Add onion, garlic and green chilies and stir fry till onion is translucent.
Add tomatoes and stir fry for 2-3 minutes till soft.
Add ½ cup water. Close lid and let cook for 5 minutes.
Mash the tomatoes a little.
Add chili powder, turmeric powder, garam masala, sugar and salt. Mix well. Let cook for 2 minutes.
In a separate pan, heat oil. Add mustard seeds and cumin seeds. Close lid and let splutter.
Add curry leaves and hing and stir fry for a few seconds.
Add this curry leaves, cumin seeds mixture to the tomato onion gravy and mix well